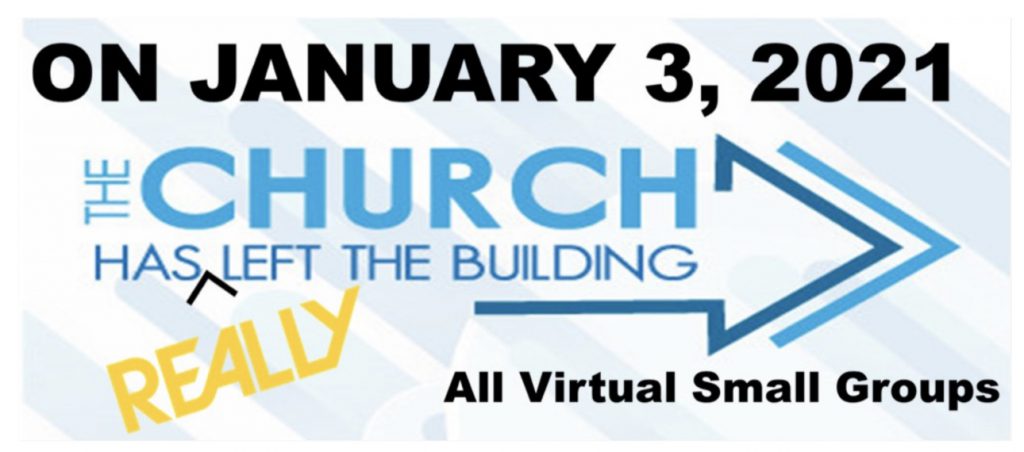 For years now, we have used the first Sunday of each new year to remind ourselves that our building is no the "church". We have done this reminder by abandoning our normal practice of gathered worship at our usual 5590 N. Nevada at 10:30 AM, to meet in smaller groups around our city. This symbolized belief that "We can't GO to church…we ARE the church!" Now, for nearly a year, COVID 19 had been teaching this truth in a new way!
Do we still need our symbol of "The Church Has Left the Building" when, in so many ways we never expected, "The Church Really Had Left the Building" in 2021? We think so. Each year, the "leaving" also reminds us that smaller groups meeting around the city can still be united by the One Spirit of God in worship. It was also an opportunity to "de-formalize" even more our already informal patterns of worship as other people in the body had opportunities to lead.
So, we will all indeed leave 5590 N. Nevada once again on January 3, 2021 and, at 10:30 AM, we will all worship virtually in smaller groups via ZOOM. We will randomly assign groups from all around the city since no one will have to travel farther than their computer screen.
If you and your email address were listed in the latest FBC directory, we will automatically send you a ZOOM invitation far enough in advance that you can be ready. If you need technical help to ZOOM, please email fbc@fbccs.org and request assistance.
If you are not listed in the directory or are not certain, please sent your name and email information to fbc@fbccs.org. We will add you to a "virtual worship group" for this special Sunday and send you a ZOOM link.
Of course, the thrill is not in the ZOOMING but in connecting with others we may not know, to worship God together, even if only virtually.
BTW: You are certainly welcome and encourage to invite friends in person at your place or virtually by sharing the ZOOM link we send you. You can even gather for your own virtual worship time with family and friends if you choose. If you need help for leading in your own worship time that day, please email fbc@fbccs.org and we'll see what we can do.
Looking forward to seeing you online for worship, Sunday January 3, 2021!